Mrs. Keeler: The Mastermind Behind the Scenes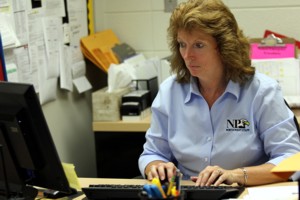 Have you ever considered how much effort was put into that "North Point Eagles" folder of yours? Or how many things had to be done in order to successfully run the Underclassmen Awards program? How about who maintains all of your student records? Next time any of these things come to mind, think of Mrs. Keeler.
Mrs. Keeler is a guidance secretary at North Point. Because she is not a teacher, not many students know what she actually does while sitting behind that desk all day. Along with Mrs. Lee, another guidance secretary, Mrs. Keeler maintains student records, handles student withdraws, validates work permits, schedules all the parent-teacher conferences, and so much more.
Although she has had twelve years of experience in the school system, Mrs. Keeler grew up wishing to take on a totally different career. She said, "I wanted to be a flight attendant. I love to travel, and I love helping people. It also would have given me the chance to see the world."
As a high school student, Mrs. Keeler was a member of the Homecoming float committee, and a player on the volleyball team. She loves being a team player, so she enjoyed participating very much.
Over the summer, Mrs. Keeler visited New York City with her family. There, they went to see a Broadway play, a minor league baseball game, and several tourist sights such as the Statue of Liberty and Ellis Island.
When Mrs. Keeler has free time, she likes to just sit down and watch a good game or television show. Between football and baseball, it is a tie for which sport is more entertaining for her to watch on TV. Her favorite football teams are the Washington Redskins and the Baltimore Ravens, and her favorite baseball teams are the Washington Nationals and Baltimore Orioles. If Mrs. Keeler is not watching a football or baseball game, she prefers to relax by diverting her energy into something that she truly has a passion for, such as spending time with her family, or relaxing on her back porch with a good magazine or her husband and two sons.
She enjoys shopping at Kohl's because they have all the clothing she likes, but she is a fan of the prices as well. If she could describe herself in one word, Mrs. Keeler would describe herself as sensitive, because she often takes things personally. She was taught to care about others' feelings, so she feels that others should care about hers too. She lives by the quote, "Laugh often, dream big, and reach for the stars."
Being a guidance secretary, Mrs. Keeler experiences stress from school just like all of the students do. Her advice to children would be, "Don't carry your stress from school home with you. Leave it behind and move on. Every day is a new challenge."