"Epic Picnic" Spices Up NEST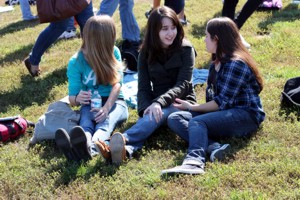 On October 7th, at the start of NEST, groups of students flocked out to the grass field behind the senior walkway with blankets, towels and their lunches. While some students started playing games other students sat down and began to eat.
The picnic was planned by Bobby Keim ('13) and Sarah Ferrell ('12). The two got the idea while walking to third block one day. "We just thought it would be cool and went home to make a Facebook event for it," said Keim. Ferrell thought the area was a nice place to sit outside and enjoy the weather.
All the students that participated in the epic picnic enjoyed it. The fun didn't stop with just the students, though. Even the administrators came out to see what all the hype was about. Mr. Wilson  joined in on a game of Frisbee with students.
The picnic fully lived up to the purpose of NEST. There was nutrition with all the lunches students had packed and brought. The extracurricular activities were twister, Frisbee, tag, football and a game of ninja. The main point of the picnic was the socializing. The picnic even had tutoring, by students helping each other with their homework and other assignments.
Many students liked the change of pace that the Epic Picnic brought. One student, Rochielle Canare ('12) said, "It's just incredible." The picnic had a different atmosphere from regular NEST, in the cafeteria or out on a patio, it was more relaxed. Compared to regular NEST it was "So much better," said Starlyn Talbott ('14).
"It's so much fun being able to play games with my friends. It's like having recess back," said Yadira Coleman ('12). The picnic had many games, such as twister and cards, which students really relished.  "I like playing twister with my friends," commented Sydney Perry ('13).
As the fun winded down Tim Castano ('12) screamed out "Best lunch ever!" The excitement from the picnic didn't end at the end of NEST. Many students talked about it all through their third block classes. Sueng Choe ('12) walked into his third block class saying, "It was epic!" Many people said they wished they had gone, but more students were saying how much they wanted to have another Epic Picnic.