Drill Team Conquers the Competition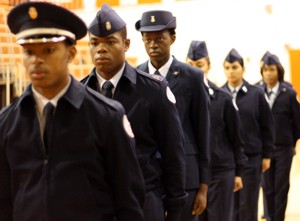 In the Maurice J. McDonough High School gym on the 22nd of October at nine o'clock in the morning, the 2011 Charles County Drill Classic Competition began.  A hush fell over the crowd. The tap, tap, tap of shoes echoed in silence, interrupted only by sharp calls of the drill commander. Here, there, and everywhere, sharp military uniforms were decked out with pins, flags, arms, and spit shined shoes.
The Drill Classic came a little sooner than expected this year. This meet is usually held in March, but it was moved to October this year. With only a month to prepare, nerves were running high. The teams sized each other as the entered the arena. They kept count of the mistakes of their opponents.
The North Point first year color guard, in their first ever performance, was first to take center floor. Filled with nervous energy, their steps were sharp and to the point, impressing the judges, who were real military men and women.
As the color guard wowed the crowd, the North Point Inspection team geared up for their event and a grueling questioning session from military judges.
Questions ranged from historical facts to hygiene. "I felt really good going into inspection and I think we performed very well. I am proud to see that we have progressed to the level we are now," said cadet Terrence Hayes ('12). He is the commander of the Inspection team.
When judging first year Color Guard and unarmed regulation, Marine Staff Sergeant Jephte Charles looks for confidence and unity. "I like to see everybody do the movements together with cohesion and synchronization….even if you mess up, I like to see good bearing," he said. He advises students should not loose their confidence, even if they make mistakes.
Judges use a grading sheet with scales on them. "Bases on how I see the movement executed, I assign a score between 1 and 5," Staff Sergeant Charles stated.
North Point's team impressed the judges, earning first place overall. In the words of the drill team: "When we won I felt a sense of achievement. Dedication and commitment came into play because it pays off in the end," said cadet captain Dewayne Patterson ('13).
According to Lt. Col. Brown, "This was a great victory for our program and the school, and it definitely shows what TEAM WORK and DETERMINATION can do."
Here are the results for each category: 1st place in Inspection commanded by Terrence Hayes, 2nd place in Color Guard commanded by Jamey Finley, 1st place in AS 1 Color Guard commanded by Sean Sutherland, 1st place in Armed Regulation commanded by Aaron Watson, 1st place in Unarmed Regulation commanded by Aaron Harper, 2nd place in AS 1 Unarmed Regulation commanded by Juan Trevino, 1st place in Armed Exhibition commanded by Chosani Waleed, and 1st place in Unarmed Exhibition commanded by Daija Hunter.