Tom Jones Presents a Taste of Old England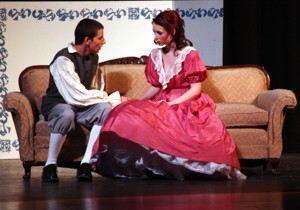 As the lights dimmed in the North Point theater on the night of November 4th, a figure dressed in breeches, a waistcoat, and a George Washington-esque tricorn hat took the stage. "Many people said Tom Jones was born to hang and others called hanging too good for him," he said. Those words were a memorable way to begin The History of Tom Jones, a Foundling, this year's fall play. The production, which enjoyed a three night run from November 3rd to the 5th, was an entertaining, if predictable, romantic comedy.
Set in 18th century Britain, Jones tells the story of the title character (Jeremy Drew ('13)) as he falls in love with Sophia Western (Samantha Baker ('12)), the daughter of a wealthy country squire. Unfortunately for Jones, he is but a foundling – an abandoned child with little rank in society. Also competing for Sophia's attention, but mostly her money, is Blifil (Seth Lohr ('12)), Jones' foe. The story follows these principal characters, along with many others, as they sort out their relationships in typical romantic comedy style – miscommunication, will they/won't they drama, artful deception, and more.
The production was memorable for the work of several key players who brought something unique to the cast. James McCollum's ('12) connection with the audience as the part-time narrator, Partridge, was excellent, especially in his throwaway lines. ("There are no small parts, just small actors," he said to a character that was killed off in the first few minutes of the show.) That 'play within a play' atmosphere was very engaging. Other stand outs included Lohr as Blifil for his hilarious mannerisms and Michael Heck's ('14) Highwayman, who was responsible for many of the laugh out loud moments in this show. Kamryn Dudley as Miss Western, Sophia's aunt, also displayed great talent.
Drew and Baker were well cast for their roles as the main characters. Their chemistry as lovers was good and both had adequate acting chops. Baker especially seemed to embody the character of Sophia Western. The costumes in this production were top-notch: the hoop skirts, breeches, and gowns were visually appealing. The set itself could have been more elaborate, but I recognize that this isn't Broadway.
Members of the audience had a good time at the show. "It's an amazing production with a great cast and crew," said Paige Haskins ('13).
"I think it's really good," noted Alessia Parks ('13) during the intermission. "It's funny seeing my friends act like someone else – it's awesome."
Turnout to the production was definitely depressed by the North Point-Westlake football match , but the smaller crowd did not mean a decrease in quality. Fans of theater can catch the next production, Legally Blonde: the Musical, this spring.