From the Farmyard to the Schoolyard: Meet Mrs. Griffin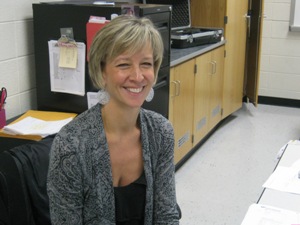 Cattle, pigs, and horses. Barns. Two hundred acres of open pasture. Many North Point students would consider the concept of growing up on a farm as foreign as growing up in another country. But for Mrs. Griffin, those two hundred acres in Minnesota were home for the earliest portions of her life. For her family, there was no need to lock the front door or even ride a bike to meet up with the neighbor kids – that's what horses were for. Several years later, Griffin finds herself a world away, teaching Algebra and Trigonometry at North Point.
Following in the footsteps of her father, who was a math teacher (and farmer), Griffin attended St. Cloud State University in Minnesota with the hopes of earning a degree in Education. That, however, did not go as planned. Working as a math tutor while she was a student, Griffin became disenchanted with the profession. "All the kids wanted to know was the answer. They didn't care how you got it," she recalls over a lunch of one of her signature salads. As a result, Griffin got a degree in Math, Business, and Speech Communications, and entered an entirely different industry: the insurance business.
Soon, the Minnesota native found herself moving cross country, to Charles County, Maryland.  She says of the move, "It was life changing because I thought I would go back home to Minnesota after doing something fun and exciting for a few years. And I never left."
As is the case for so many others, Griffin couldn't resist the appeal of the classroom and finally became a teacher, landing at North Point when it first opened in 2005. As she enters her seventh year here, she still loves what her job allows her to do. "I think I can help make math interesting so kids don't get turned off," she said.
During her own high school years, Griffin describes herself as being quiet and shy. She was an athlete, playing volleyball, basketball, and a single season of golf. "I was pretty interested in school," she recalls.
Griffin served as the Student Government Association (SGA) Sponsor for several years, overseeing Homecoming, Spirit Week, Red for Dead, and many other activities. "SGA was always very organized and ran very smoothly with Mrs. Griffin. She had a good way of transitioning students into new officer positions," recalls Alex Colaciello ('12), SGA President.
"She's a caring individual who always puts her students first," says Mr. DeCook, a fellow math teacher and Griffin's next door neighbor. "She's very involved in this community and school."
Outside of North Point, Griffin can be found coasting the trails in and around Washington on her bike or reading the newest selection for her book club. Among her hidden talents is one picked up from a class of North Point eighth graders – how to "walk it out".
Bobby Keim ('13), a former Trigonometry student of Griffin's, appreciated her use of technology in the classroom, along with the vibrant stickers and home made  brownies she employs as rewards for good work. According to him, "She's the best."