A New Face at North Point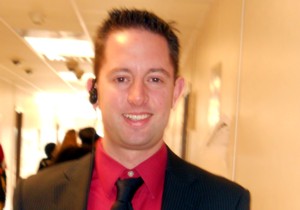 As students walk up the main ramp to the modular buildings, they are surprised to see a new face ushering them to class. This new addition to the North Point Nation is Mr. McCarthy. McCarthy is the new administrator for the ninth graders.
Mr. McCarthy is coming to North Point from La Plata High School, where he worked as an English teacher for two years. Before working at La Plata, he was an English teacher at Davis Middle School. Mr. McCarthy loved working at Davis, but wanted to work at the high school level, so he put in applications at both North Point and La Plata. He received a job offer from La Plata, and accepted it. The next day, North Point called him with an offer. Though Mr. McCarthy wasn't able to teach at North Point, he had another opportunity to join this community when the central office offered him an administrator position.
McCarthy's adjustment to North Point has been great, but very busy. "I have been here almost two weeks, and I haven't had the time to decorate my office yet," he added. "I love it here," said Mr. McCarthy. He most specifically loves the atmosphere, students and teachers.
McCarthy was born in Pittsburgh, raised in Detroit raised, and considers both cities to be his home. He went to college Western Michigan University for his undergraduate degree in Education, with a focus on English and Communications. He attended McDaniel College in Westminster, Maryland for his graduate degree in Educational Administration. In the fall, Mr. McCarthy will be enrolling at Bowie State University to complete his doctorate degree.
Mr. McCarthy did not plan on being a teacher when he was younger. Like other young children, he had a more extravagant dream. He wanted to be a National Hockey League player. He went to college and wanted to be a lawyer, but did really well in English. As his interest in English grew, a career as an English teacher developed.
Mr. McCarthy may like English, but his favorite subject is history. His favorite time period was during the Vietnam War. "It wasn't my generation, but the next generation up," he added, "I got to learn through my grandparents, which was really neat hearing about the war."
Though Mr. McCarthy didn't become a hockey player he is still on the ice. He feels that his love for hockey is what relates him to students. He coaches hockey for the Southern Maryland Sabres. The team is made up of students in various grades from sophomores to college freshmen. His work with students outside of school is different from working with students in school. "Working with them out of school helps me relate to the students more," he said.
Mr. McCarthy may have been a resident of Charles County for a while, but he is still a Detroit/Pittsburgh fan. All of his favorite major league teams are Detroit and Pittsburgh teams, such as the Detroit Lions, Pittsburgh Steelers, Pittsburgh Penguins, Detroit Redwings, Detroit Tigers, and Pittsburg Pirates. When it comes to college sports teams he is a University of Michigan fan for football, hockey and basketball. For basketball, he is also a University of Pittsburgh fan. However, he is a fan of the greatest sports team of all time though, the North Point Eagles. "I love all North Point sports, the basketball team, the football team, the volleyball team, the Poms team, all North Point teams," he added.
One interesting, rare known fact about Mr. McCarthy is that he used to live in Nottingham, England as a kid. "I lived in England half way from my seventh grade year to half way into my eighth grade year," said Mr. McCarthy.
Mr. McCarthy has come to North Point with a lot of goals for North Point as a whole and students individually. "I want North Point in general to continue to be recognized in the community as a positive environment," he explained. More specifically he wants to see students succeed. He wants every student to set high goals and expectations for themselves and he wants to help them reach them. He commented, "It's important for kids to set goals for themselves and have intrinsic motivation instead of extrinsic motivation." He plans to create a reputation for North Point as a place of both academic excellence and positivity.