LSN HSA is Gone in a Flash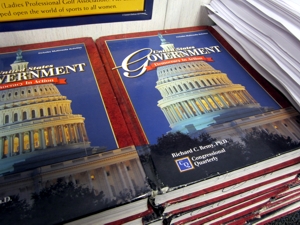 One portion of the Maryland high school experience went out with a whimper at the end of the last school year, but most students aren't aware that anything has changed. As of June 2011, the Local, State, and National Government High School Assessment no longer exists, and graduating seniors need not pass it to get their diplomas. The LSN course, however, remains a graduation requirement.
The elimination of the LSN HSA came in the midst of budget cuts on the state level. The cost of the test and its scoring was $1.9 million. Having signed onto the Common Core, a program in which forty eight states have agreed to adopt common standards, Maryland was changing its curriculum anyway, so the Department of Education felt comfortable in its decision.
While this action did save money, it has left many government teachers up in arms. "I feel like it was a mistake to take away the test because now it kind of devalues social studies – now you're telling me that English, math, and science are important enough to have a state test, but social studies isn't," said Mr. Kirby.
The High School Assessments are Maryland's way to meet the requirements of the No Child Left Behind Act. That law, however, only requires tests in English and math. This begs the question of why the government test, but not its biology counterpart, was on the chopping block.
"It (the elimination of the test) is not fair to those juniors and seniors who did have to take it during their ninth grade year," commented Travis Bonds ('13).
Briana Williams ('14), a member of the last graduating class to sit for the LSN HSA, said, "I'm upset that it didn't count…I actually did well on it."
Despite the fact that the original purpose of their class has shifted, North Point's LSN teachers still have plenty to cover. "I'm going at more of a slower pace; I've introduced more projects, we've done more cooperative activities," stated Mr. Elm.
Additionally, the government test can still be used in combination with the three other tests to reach a total score of 1602.
The LSN HSA was actually a graduation requirement for just three years. Despite its fleeting presence, the impact it had on education in Maryland has not ceased.