Remembering the Fallen: Terry E. Honeycutt Drill Competition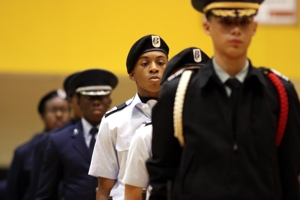 Bright and early, on Saturday, December 3rd, North Point's gym was abuzz with three hundred to four hundred students from Maryland and Virginia high schools. Each cadet came to compete in the first annual Lance Corporal Terry E. Honeycutt Drill Competition, Jr. Drill Classic armed with spiffy uniforms, spit-shined shoes, guns, hopes and aspirations.
North Point's AFJROTC hosted the event. They were not contending and left the battle to eleven other high schools: Chopticon, Duval, Forestville Military Academy, Fredrick Douglass, Lackey, Laurel, Monticello, Oakland Mills, Stonewall Jackson, TC Williams, and Wise High School.
Forestville Military Academy came, saw, and conquered all, seizing 1st Place overall by a landslide. Khiara Holmes ('13), Drill Team Commander from Forestville stated, "I am proud of my team; we have come a long way from our first drill meet." For SFC Ted Prince (Ret) of Forestville, "This competition was a well put together: the judging was nice, all the folks were very professional, and knew the rules and regulations to govern a situation like this."
The competition was in remembrance of Terry E. Honeycutt, a founding member of the first armed and unarmed drill teams. He also helped to pioneer North Point's unarmed color guard. Honeycutt was a former North Point JROTC four-year cadet in the graduating class of 2009. He was wounded in action while serving in the United States Marines, and passed away October 27, 2010. "A lot of us were sad when we found out that he was set to deploy overseas, but knew that he was fulfilling his lifetime goal by serving his country," Brittany Dennis, North Point alum of 2009, former JROTC cadet, and good friend of Honeycutt, said.
"It means a lot to have him be honored in such a tremendous way because he really liked his AFJROTC. Even though he was a marine, he was touched and took pride in all of his JROTC cadets," Honeycutt's mother, Christine Honeycutt, expressed.
Honeycutt's sister, Dawn Clark, did not know what to expect going into the event, but says it turned out well. She said, "The fact that it was in honor of TJ was very heartfelt and toughing." Jane Foxx, Honeycutt's grand mother, was overwhelmed and fulfilled by the Drill Classic. "It was absolutely stunning and a wonderful tribute to my grandson…. I am very proud of all the people that I saw here today and all the schools," she remarked.
"I hope others know of Terry or can hear of the passion he had for this: the blood, sweat, and tears he put into these events. I hope that other young cadets pick up on that and have that same passion," Terry Honeycutt Senior, the father of the fallen soldier, commented.
Terry Honeycutt left a lasting impression on students, even ones who never met him, like Paul Babiarz ('14). In his words, "He still impacted my life, because he still makes me want to join the military. He still makes me want to do something more in my life than just look after myself look after other people."