Does North Point Really Recycle?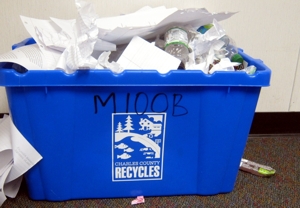 North Point, being a young school, does not have much in the way of urban legends. There is, however, one exception. Many students, and more than a few teachers, believe that despite the blue bins seen all around the school, North Point does not recycle. Some students claim that the contents of the recycling bins go straight to a dumpster where all other waste is deposited.
So, does this accusation have merit? According to North Point's custodial staff, it does not.
When asked if the contents of the bins truly get recycled, Ms. Mackle, a custodian often seen around school, replied with an unequivocal "Yes…always." The plastic bottles, paper, and other items are taken to the recycling trash dumps outside, and eventually are transported to a recycling processing center. Around ninety percent of the items in the blue bins end of being recycled – some may be more fit for the trash.
The rumor that the recycling is treated as trash at North Point may stem from a bystander confusing the trash and recycling bins. And from there, it grew and grew.
There are many people who think this rumor was questionable to begin with.
"I do not believe (the rumors) are true because it wouldn't make sense for there to be recycling bins if the (contents) weren't being recycled," said Adam Williams ('14).
This discussion brings up a larger one: is North Point's recycling enough?
"I would say people don't even notice the bins sometimes. People just throw stuff away," commented Isabel Burick ('13). Burick noted that there are many more trash cans than recycling receptacles in the building. She felt that if teachers emphasized the presence of recycling options in their classrooms, North Point could become a greener environment.
Therefore, while the recycling rumor can be laid to rest, the recycling conversation is not going anywhere.