The Experience: Model UN Attends Hopkins Conference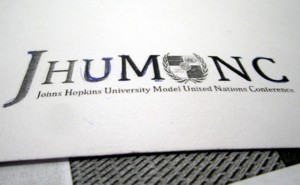 The Model United Nations club just recently went to its first big conference of the year at Johns Hopkins University. There, students competed with 1,500 of their peers by discussing a variety of topics, from the small arms trade to human rights. "It is a really cool experience where we get to discuss international topics in a realistic setting," said Elizabeth Burgess ('13).
Each group represented a country in different committees such as International Security, United Nations Development Programme, and World Health. North Point attended as the Bulgarian delegation.
"We got a lot of work done," said Burgess. She was in the Economic and Social Committee.
Burgess added, "We talked about poverty and women's rights." Aaron Wilson ('13) has a diverging perspective. "My position was different than others," said Wilson. He was part of the press core. "I had to write seven 500-word articles in four days," Wilson added. He also got to go from committee to committee and see what they were discussing. "I got a general overview of the conference."
"It went pretty well considering it was my first conference," said Matthew Bianes ('15). Being his first time, Bianes got to get a good feel for how conferences are. Bianes mentioned, "I did okay. It was pretty difficult." The other groups brought their competition; beating them would be a challenge. "Most of the kids there had Model UN as a class and they did their research," added Bianes.
Mr. Kirby is the sponsor of the Model UN club. He was pretty pleased about how the conference went. "I thought the conference was well run. I thought the competition was exceptional, but our North Point kids held their own," he stated. The club members saw the competition that awaited them and accepted the challenge. "We didn't win any awards, but our kids worked hard and they did their best. They were competing against kids from all around the world, 1,500 to be exact."
The Model UN club members did their part during the conference. They stuck it out, and according to Kirby, did the best they could. Next year will provide another chance for the members to show all 1,500 students what they can do.