Kaplan SAT Class Is Eliminated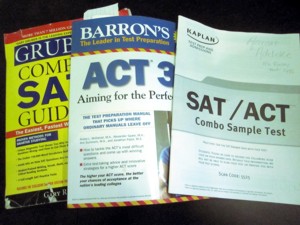 Every year, North Point juniors sit for a mock SAT/ACT exam, provided by the Kaplan Company. The test itself is a valuable exercise in seeing where their scores are and in which areas of math, reading, writing, or science that they can improve. But one of the most useful results of the exam was an opportunity for certain students to participate in Kaplan review sessions on Saturday mornings or during NEST. Now, that opportunity is gone.
"We were told that Kaplan wouldn't be offered this year, as of February 2012," said Mr. Simms, the Vice Principal who handles testing matters. The decision came from the county level and was not in the hands of North Point's administrators.
Given the change, how can juniors prepare themselves for their upcoming college exams? According to Simms, "The SAT and ACT are process tests." This means that students should 'pick up' the skills needed to succeed simply by paying attention in the classes that they take. Simms believes that students in upper-level classes should be ready to test.
Regardless, North Point is prepared to offer alternatives to replace the loss of the Kaplan programs. Administration has been introducing test prep via Study Island to juniors during NEST sessions over the past few weeks. Students can log onto the website from home or school and complete practice questions. Additionally, resources are available on Collegeboard.org (SAT) and ACTStudent.org.
Simms also had some general advice for junior year testing. He recommends that students take the June test, especially since the May test is during the same period as Advanced Placement Exams. The March test, the first of each annual cycle, often contains experimental questions that are later stricken. Students who are attending two year colleges need not take the SAT or ACT at all. "If you really need to take it, make sure you look at the mock test and find out which is the best one for you," added Simms. And, of course, "Make sure you have everything you need in order to get into the four year college or university."