Mr. Skinner: More than a Math Teacher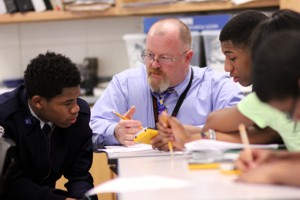 VROOOM! On a growling motorbike, a seasoned traveler and avid scuba-diver rolls into North Point High School. Who is this person? None other than the mathematics teacher, Mr. Skinner. Running an entertaining class, few can resist his vivacious personality. It's no wonder that even his graduated students continue to keep in touch. Despite the pep in his step, Skinner is no newbie to teaching.
Nine years ago, Skinner retired from the Air Force and took up teaching. Always good at math, he ventured into the field. It was not until six years later that he joined the North Point staff. After working at other five schools, he found none could compare to NPHS. In his words, "This is the best working environment I have ever worked in as a teacher, by far."
Everything from planning and executing lessons, which align with the county provided curriculum, to evaluating students' competence in the skills as outlined, are all tasks Skinner fulfills as a trigonometry teacher. Along with grades, interaction with parents, writing letters of recommendations, referrals for discipline, and attendance, which come with the job description. What makes him unique is he teaches about more than just math- students learn about life. Every class, one can expect to hear at least one or more of his riveting life stories that have molded him. For him, the best part of teaching is seeing the students leave and return to visit. "I get to see in their eyes all the things I taught them. I do a lot more than just teach math; I like to talk to them and see them play," he said.
According to Nathan Radthe ('13) "He likes to make jokes, talks quite a bit, and is a good and well-rounded teacher."
Over the years, Skinner has gotten various accolades, like for the work he did on curriculum and testing in New York State. His greatest accomplishment is knowing he is respected by his peers.
Skinner likes to keep his life interesting. Outside of school he delights in an array of activities. Curling, golfing, spending time with family, and riding his motorcycle are all activities that consume his free time. He especially relishes scuba-diving and traveling. In school, he is the head varsity golf coach, MESA advisor, and PBIS co-leader. On top of that, he works with the grads kids, goes to the school sports games, and participates in the social committee. He attacks any opportunity he can get his hands on to keep him as busy as a bee.
Regardless of his business he never tires out; he is sure to keep his class and attitude upbeat and engaging. Everyday, when school lets out, the figure who rides his bike, heads off into the sunset