Spanish Students Venture to New York City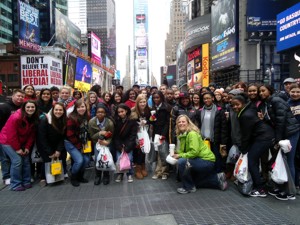 From Friday, March 2nd to Sunday, March 4th, several students currently taking Spanish as a foreign language credit attended a field trip to New York City. However, they didn't go there for the typical sightseeing experience of the city. They explored the Spanish culture in an entirely new form.
The trip began with a brief orientation session discussing the use of the Spanish language in North America, then shifted to sightseeing of several historical sites around the city, such as Washington Heights, the city's Dominican neighborhood.
The attendees ended the first night of their eventful trip with a salsa lesson followed by a performance with a live band at the Boys and Girls Harbor. "My favorite part was the salsa, because it was a totally new experience," said Joseph Pinkerton ('15). "It was so unlike what I thought it would be."
On Saturday, the group began bright and early with a continental breakfast at their hotel. Then they visited the Metropolitan Museum of Art, Harlem, and the Rockefeller Center. They ate dinner at Havana Central, a Cuban restaurant located in the middle of Manhattan. Before returning to their hotel for much needed rest, the group toured Times Square with a comforting night-time drive around the area.
Sunday consisted mostly of typical New York City sites, such as the Statue of Liberty and Ellis Island, where the students learned about immigration to the United States.
Spanish teachers Ms. Steele and Mrs. Emple planned the entire trip. "We wanted students to receive first-hand knowledge of Hispanic influence in the United States," said Steele; "For a lot of students, it introduced them to a new aspect of Spanish culture, and made them want to continue their study of the language."
After a long and eventful weekend of touring, dancing, and shopping, the students returned home just in time for school early on Monday morning. Who ever said there was anything wrong mixing a little business with pleasure? The trip was both educational and enjoyable, and the teachers hope to do it again very soon.