The Baton Twirling, High Tech Biology Teacher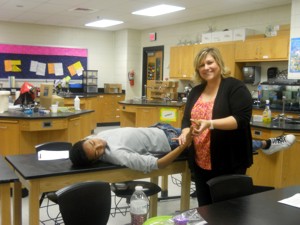 Michelle Craig is an A-level, Honors and AP biology teacher. She is from Johnstown, Pennsylvania, which is just about the size of Waldorf. This teacher holds herself to a high standard and is known to be open minded.
Craig obtained her Bachelor's degree at Slippery Rock University and got her Master's degree through the college of Notre Dame. Though she originally went to school for physical therapy, during her junior year of college, she decided it wasn't for her. What she really wanted to do was become a teacher.
Before North Point was created, Craig worked at La Plata High School. She came to North Point because she wanted her daughter to attend the childcare program here and thought that working here would be a nice change. "I think it's a great school with lots of opportunities and I enjoy connecting with the STI curriculum so students can get a look at the real world," she said.
Her daughter is now eight years old and plays lacrosse and basketball. Craig enjoys going to her daughters' games and spending time with her other family when she is not teaching her students about DNA and punnett squares.
Craig enjoys being a teacher because she can create new things to engage her students. Some strategies she uses to teach her are technology, like the CPS clickers, and hands on labs.
Mrs. Craig has two great Danes, taught in Mexico and started to twirl batons when she was five and did it through college. She is currently the Chair of the Science Department and teaches grades ten through twelve.
Craig feels that she learns a new thing from her students every day. She laughs as she explains how just the other day they were teaching her a dance she had never heard of before. Most would describe her as teacher who takes initiative and knows just about everything. She believes that science is the future and is going on everywhere. In her words, "When you look at technology, medicine, and health issues, it really is going on all around you."