Senior Citizens Dance the Night Away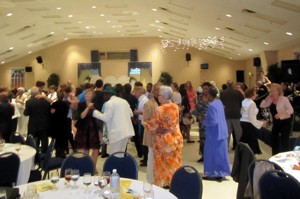 The music flowing out of the Jaycees Hall on the evening of March 16th was not typical of the standard Senior Prom. Most teenagers don't blast "Play that Funky Music" or "Shout!" out of their iPods, after all. The dancing: waltzes, conga lines, and the like, were also out of the ordinary. This wasn't just any party – it was the annual Senior Citizen's Prom, sponsored by the Charles County Association of Student Councils (CCASC). Charles County's seniors, and many of its high schoolers, came together for a night of fun.
Nearly one hundred students, including several from North Point, were on hand at the event to act as waiters, and dance partners, for the Senior Citizens present. Carrying iced teas and piping hot cups of coffee made to order across the crowded hall wasn't always easy, but the students enjoyed themselves nonetheless.
"I would say that the Senior Citizen's Prom was a really fun and enlightening experience. It's like a high school prom where everyone there is nice and is just there to have fun," said Thomas Lilly ('14), a Student Government Association student.
After dinner was over, students and seniors hit the dance floor, grooving to music provided by the Byx Bullock Combo, a live band that played everything from swing to funk. The soundtrack wasn't just an ode to the Senior Citizen's high school years – the Cha Cha slide, Cupid Shuffle, and Wobble worked their way into the night as well.
The Prom is an annual event planned by CCASC, as well as the Department of Aging & Senior Programs. The groups meet in planning sessions starting in January, setting a theme, ordering decorations and getting the details just right. This year's Prom was the 50th anniversary of the event, and the tickets, as usual, sold out in a single day.