King of the Pool: Mr. Chichester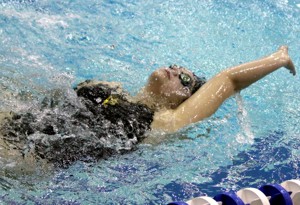 A native to Charles County, Mr. Chichester is no newcomer to life here in Waldorf. Chichester attended Thomas Stone High School and has lived in Charles County his whole life. At North Point, Chichester teaches various aquatics classes, including Lifeguarding and Swimming & Conditioning. When there are enough students interested, he also teaches a Water Safety Instructors course.
Chichester is about more than just the water, though. In his spare time his likes to go hunting, fishing, and crabbing. "I like to ride on my four-wheeler and take pictures of the wild life here and in West Virginia," added Chichester. He also plays baseball for an adult league with other people his own age. Last November his baseball team won the Championship title.
Chichester is a very sports oriented person. He is the head coach of North Point's baseball team, likes the New York Yankees, and the Washington Redskins, "despite their current record." When he was younger he had dreams of becoming a professional baseball player, but deep down knew it wasn't going to happen. He later found his career to be that of a teacher. "My mom was a teacher for several years so I saw how passionate she was about her job. I also knew that I wanted to help people and help them stay active and in shape," he commented.
When Chichester was in high school his favorite aspect of it was playing sports. "I knew that when the day ended I would have something to do so when I got home I knew it was dinner, homework, bed," added Chichester. He said that playing sports helped him manage his time which helped him when he played sports in college.
Though he is no longer in high school he has his favorite parts of North Point. "My favorite thing about North Point is the hot chocolate on Tuesday and Thursday mornings for the staff," said Chichester. More than the hot chocolate, he likes his classes.  "I really like teaching with them and watching their growth and strength throughout the school year. You may walk in not being a strong swimmer or runner or even lifeguard but you will leave stronger and more confident," added Chichester.
Many students have become very close with Chichester over the years of having him. "Mr. Chichester is great as a teacher and a friend," commented Kyle Upchurch ('12). Chichester has many goals and aspirations that build a strong bond between him and his students. "My goals are that the students learn the meaning of hard work. You put in what you get out. In my class I don't except many if any excuses and my students know that. So I feel like if you set your standards high, the students have nowhere to go but up. I hope that they know that I care about each of them and I want to see them succeed in life and in my class," added Chichester. Being in his classes Alyssa Crehan ('13) has reached many goals and learned many things from him. "He has showed me how to be more responsible and to be a better person," she said.
There are many interesting facts about Chichester that many people don't know. The first is that his favorite cartoon character is Road Runner, because he was always on the run, never sat or stood and he always outsmarted Willey Coyote. Second, he doesn't do his own typing; he has Mrs. Gray type most of his documents. The last interesting fact about him is that he has been married for 30 years and has three children. Chichester added, "Also, I have also taught for over 33 years. I have also never spent a Thanksgiving holiday with my family because I've gone hunting with my college friends for the last 34 years!"