The Make-It-Clean Makle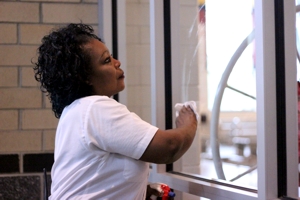 Behind the scenes and beyond our eyes, there is an army of building service workers who are working to the bone to keep the school flawless. Their products allow loads of students to surge through the doors to find a spick span and spotless school. Ms. Makle is enlisted in this army. Her work ethic and friendly disposition make her a standout amongst the staff.
The morning is the favorite part of her day because she enjoys the responsibility her job gives her.  Makle commences each day by checking her email, clean-sweeping the hallways, and putting in work orders. Throughout the day, she inspects every crevice of the school: the hallways, elevator, classrooms, restrooms, and even the walls, ensuring it is free of marks or an ounce of dirt. Students' messes can be quite the challenge. Sometimes, she has to clean strange messes, like in the bathrooms, but she perseveres through it because she loves her job. This helps to make even the most daunting tasks easier.
As a people person, Makle wins over North Point staff and students. First, she makes a strong impression by talking to students with a smile. Whenever someone is down and out, she talks to them and cares for them.  According to Mr. Felicitas, "She is one of the most upbeat, friendly, professional people I know. I enjoy working with her every day. She loves kids and you have to love them to work at a high school."
Before working at North Point she worked for the Gateway Computer Company and the Maryland Independent. However, that all changed when her sister-in-law informed her about North Point during its infancy. Having just moved back to Maryland, she decided to snag the job like a fox.
Over the years, the job has improved. She started out as a regular building service worker. Through diligence and determined effort, she was promoted to a night leader, someone who cleans the school after dark. Pushing the envelope even further, she obtained a job as an assistant building service manager.
Now she hopes she will further upgrade into a building service manager. With her love of responsibility, knowledge the school so well, and sociability, we can trust that the school will be in good hands. Besides, hasn't it been squeaky clean since its inception?