Opinion: North Point Needs to Put Academics Front and Center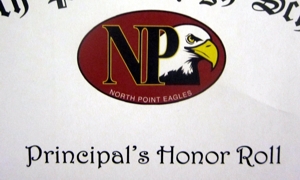 North Point may be known for many things, but one of them is constantly at center stage: its sports. There are pep rallies and awards banquets, a giant inflatable eagle and other bells and whistles. These things are impressive and surely appreciated by athletes and their parents. But for many students, it feels as though North Point spends so much energy on cultivating its athletes that it largely ignores something much more important: academics.
For students who do exceptionally well with challenging course loads and high expectations, the rewards, and recognition, are meager at best. There is the quarterly ritual of handing out honor roll certificates, but this takes place unceremoniously, in home room. Receiving this mass produced mark of academic achievement is no more special than being handed a random flyer. The  ubiquity of these certificates has made them mostly worthless.
Additionally, as the year comes to a close, there is an underclassmen Awards Ceremony. To be honest, though, the proceedings feel more like a time filler than a place to congratulate the best of the best students. The ceremony is highly impersonal and a bit rushed. Eagle Cards are appreciated, but do not feel like much of an achievement.
When it comes down to it, having a championship winning basketball or football team is great, but the worth of a school lies in how well it educates its students and how well those students succeed.
In fact, four North Point seniors (Natalie Griffin, Cayley Dymond, Ian England, and Connor Roberts) were named National Merit Commended Scholars for this school year. Despite the fact that this honor is given to just the top 3% of high school seniors, their achievement was largely unnoticed. A situation like that is unacceptable.
When students win prestigious scholarships and prizes, as quite a few in the Class of 2012 have, they should be recognized.
When students put in the hours of hard work and dedication it takes to maintain straight A's through four, eight, twelve or sixteen quarters at the school, they should be recognized.
When students score 4's and 5's on multiple challenging Advanced Placement Exams that are a magnitude more daunting than High School Assessments or Quarterly Assessments, they should be recognized.
The question is: recognized how? There are a few ways to start. First, the administration could hold Academic Achievement Banquets every quarter or semester to recognize students who are consistently on the Honor Roll, high performers on national and state exams, or have distinguished themselves academically from the rest. These ceremonies could be split by grade to keep them intimate.
At Westlake High School, students who take four or more AP classes gain the privilege of using the AP Student Lounge, a place for relaxation, studying, and entertainment. North Point, if it could find the space, should adopt a similar idea, if at least during NEST time.
Those suggestions are just a start and there is much progress to make. Senior Erica Adedeji put it best, saying "After all, academic achievement is the backbone of any school. Students who achieve great grades and quite simply work their butts off deserve all the rallies in the world…Maybe if greater importance were placed on academics, instead of just dreaming about the letterman jacket, students would dream of the letterman jacket and the stole."