Student Government Paints the School Red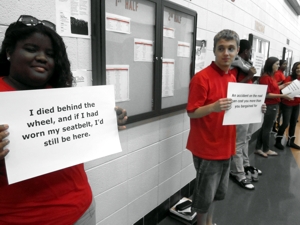 It is Friday, May 11th. Less than 24 hours until Prom. The bell rings at 2:50 pm as it has rung at 2:50 pm for the past 160 days of school. But as students flood Main Street on their way home, or to practice, or to wherever, something is different. The eye catches a flash of red through the sea of people. And then more flashes of red. In fact, nearly a 150 students are lined up along the hallway, clad in the same blank red t-shirts, remaining silent. They hold up pieces of paper that state the facts plainly.
"In the U.S., between 1998 and 2007, crashes with drivers aged 15 to 17 resulted in the deaths of 28,138 people."
"An accident on the road can cost more than you bargained for."
Red for Dead, an activity sponsored annually by the Student Government Association, is meant to raise awareness of reckless teen driving that often occurs around Prom time. Students from every grade level wear red and remain silent in order to show their friends and classmates what it would be like if they were involved in a fatal or debilitating crash, unable to attend school ever again.
"North Point's SGA has a genuine concern for student drivers and to discourage drinking and driving during Prom weekend. We host Red for Dead so that every student comes to school Monday alive and well," said Thomas Lilly ('14), and SGA officer.
"It was a sea of red and it caught your eye," said Ameer Patel ('13). "All of Main Street was covered with red and it made you curious about what they were trying to say."
This message was also echoed by the Pre-Prom Assembly, which took place on May 3rd. Juniors and Seniors watched a presentation by a nurse from the University of Maryland Shock Trauma Center in Baltimore. She described the impact of teen driving accidents on the deceased's community: the shocked friends, the grieving families, the scarred accident sites. Students exited the assembly chastened by what they heard.
Prom weekend came and went and by all accounts, there were no major accidents or incidents. Just as it should be.