Senior Wisdom: Daniel Diazdelcastillo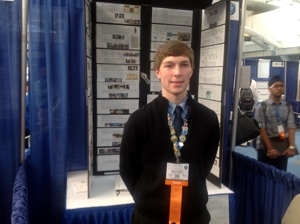 As North Point prepares to say goodbye to the Class of 2012, the Eagle Eye asked a few prominent seniors to look back on their four years here and impart some last bits of wisdom before they finally cross the stage.
1. Name:  Daniel Diazdelcastillo
2. Claim to fame:
I always participated in many activities around school: I was a member of the Principal's Landscaping Committee (making final decisions that were used to construct the North Point Court Yard), SGA, and assisted NPHS faculty with multiple tasks during special events. I was treasurer of Key Club, where I helped to lead the club of 80 people, collected dues, participated in fund raising activities for the club and for charity, and volunteered in the local community. I was also part of many other clubs such as MESA, Model UN and did sports such as Football, Wrestling and Track and Field. Finally, I love science, always participated in the Charles County Science Fairs and I am proud to be a finalist in 2012 Intel International Science and Engineering Fair.
3. What are three things you learned in your time at North Point?
– Through my science projects I build great relationship with several teachers.
– I learned to trust my friends and share good and bad times with them.
– I confirmed that engineering is my right choice.
4.  What's one thing you regret?
I could have worked  harder. I regret slacking sometimes on my grades.
5. Where are you going next year?
I will be attending Drexel University. I will start a five year Material Science Engineering BS/MS program with three co-ops.
6. Where will the Class of 2012 be in 20 years?
The class of 2012 will have a VERY bright future. It will not surprise me if many people from our class will become CEOs of companies, inventors and famous people who will change the world. They will make an impact in science, art, education, politics and other fields. The Class of 2012 has knowledge, intelligence, lots of potential to make the world better for human beings.