New Vice Principals Begin Their North Point Flight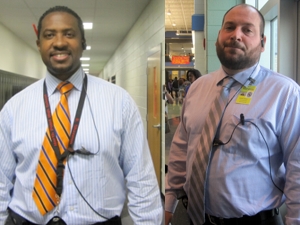 As students received new schedules, made new lunch plans, and found new teachers on the first day of school in late August, they may have noticed one other new feature at North Point. In fact, make that two new features. After the typical summertime shuffle, two administrators began to call North Point home: Vice Principals Shannon and Kaple. Each brings a different background to his position here, but both stress two things: how pleased they are to join the North Point community and their excitement for the year ahead.
As a rule, Vice Principals in Charles County do not choose the location of the positions, but instead are assigned. "I didn't really choose North Point, but I'm glad North Point was chosen for me," noted Kaple at the start of yet another busy NEST. Kaple hails from the halls of Lackey High School, where he taught social studies for six years. His first tour as a Vice Principal entails working with freshmen with last names A-L, managing student parking, overseeing lockers, and making sure Edline functions. "And there's other, more boring, stuff," he noted, chuckling.
Most observers would note than Lackey and North Point are very different schools with very different challenges, but as Kaple puts it, "Kids are kids." He predicts that he has worked with in years past will be no different from those at North Point. However, there is a major adjustment Kaple will have to make: size.
This was echoed by the other addition to North Point's administrative team: Mr. Shannon. "There's a grander scale of tasks," he commented, emphasizing the point with energetic hand gestures. Where he may have met with five to six students a day at Benjamin Stoddert Middle School, his previous location, that number exponentially increases at North Point. Having transitioned from the land of preteens to a building of two thousand teenagers, Shannon has more of an adjustment to make. But he is up for it. "The big adjustment was the maturity level," he said, adding that he has enjoyed taking part in high school dialogs on the essential topics: college and post-graduation goals. "I use that as an anchor for conversations I have with students," he notes.
Before his time at Stoddert, Shannon was also a teacher – of biology and physical science, at schools in D.C. and his native South Carolina. His portfolio includes managing the buses, attendance, public relations, and a new bullying initiative.
Shannon and Kaple expressed their excitement at joining "the STI school" and promoting North Point's unique achievements within the community. As Shannon put it, "It's such a cutting edge type of program preparing our students for 21st century skills."