She Kicks Like a Girl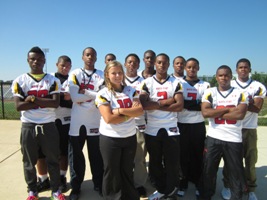 Say hello to North Point's new Varsity Football kicker, Paige Wood ('14). This fall is the launch of Wood's football career; she has never been on a football team before. This is also the football team's first time having a girl play for them. Now, she can be seen trying to make field goals and scoring extra points to help her team get the win.
"It started off as a joke. I heard they did not have a kicker and I wanted to try something new," Wood explained. Kicking field goals was not hard for her to learn. She said, "I got the hang of kicking pretty quickly."
A harder task for her was getting used to all of her male teammates. "Fitting in with the guys was difficult, but now I love them. It is like I have sixty new brothers," stated Wood. The guys eventually all warmed up to her as well. "I really enjoy having Paige on the team. She's a great kicker," said teammate Alijah Robinson ('13).
The players are happy to have Wood as part of the team. "Paige is a symbol of strength for the entire squad. No matter how much adversity she faces, she executes, which is saying a lot for a varsity kicker. Not only does she work hard on the field, but also when we are off the field. She keeps the team's spirit high with ease. I could not ask for a better teammate," stated Darrell Lewis ('13). Her gender does not seem to matter with this team. "They do not really treat me differently," said Wood.
Not only is Wood playing football, but she is also on the varsity soccer team. "It is nice having thirteen coaches, said Wood. Out of the two sports she plays, she admits to liking football better. "Football is more fun because it is new, but I can relate more with the girls in soccer," admitted Wood. With football, soccer, and school work, she still finds the time to manage all of them without any conflict. "I go to soccer practice everyday. We set up kicking practices for football, and I do my schoolwork at home or during NEST. There is not much of a schedule conflict," she explained.
Wood plans on kicking for the team next year as well. She is the only junior kicker on the team now, and they could use her experience for next season. Wood already has a lot of fans. She said, "I get a lot of attention in school when I wear my jersey."