Literacy is Fundamental: Ms. Roussillion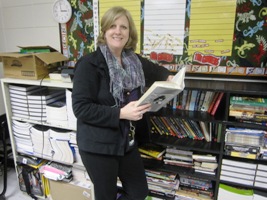 Walking into Ms. Roussillion's classroom, one can immediately tell that it is not the typical English class and that she is not the typical English teacher. For one, the room is cozy – a handful of desks are clustered inside. It is also lined with rows and rows of books – hardback and soft-cover, of all genres. This mini-library is perfectly appropriate for Roussillion's unique teaching position: literacy.
Roussillion chose to teach struggling readers because she felt that it was a cause that deserved her attention. "I saw that that was a great need with young teens to be successful," she said. "I take the kids that don't like to read and help them gain skills." With her help, Roussillion's students achieve the daunting goal of progressing through two years worth of English material in a nine month period. "She's doing something for them that someone should have done years before," noted Mrs. Kirby, a senior English teacher. "It's hard."
Roussillion's original life plan did not include teaching; she wanted to go into nursing. "But I didn't like the blood and guts," she recalled, laughing. One of her own high school teachers encouraged her to work with kids and found her a position at a special education center. She kept the job through college, where she received degrees in special education and education. She paid for her own education, working at Hecht's (now Macy's) and the special education in order to receive her diplomas. Later, she would receive two Master's degrees, one in Reading and one in Early Childhood Development. It is easy to see why Roussillon now places so much value on ensuring that North Point students have access to the most necessary tool to pursue an education: the ability to read.
In addition to working with struggling readers, Roussillion is involved with other organizations around school. She has been a co-sponsor for the National Honor Society with Ms. McLaughlin since the 2010 school year. "I really wanted to find another organization to get me more [involved] with another group of students," Roussillion said. "I really like the interaction with students and seeing them do their service hours and how creative they are. It's energizing to see our young students become young adults."
"Ms. Roussillion is a dedicated co-sponsor," said Josh Land ('13), NHS President. "Her positive attitude and cooperative mindset make it a pleasure to work with her."
Roussillion also serves as co-sponsor of the Japan Club with Ms. McLaughlin and as the teacher representative to the Parent-Teacher-Student Organization.
Roussillion works sartorial magic as a supervisor for the Theatre Department's costuming, a job she started when her daughter was a North Point actor. In one play, she said, "I helped clothe sixty-six cast members for three scene changes…that was probably the biggest ordeal." "She's an asset to the costume process," said Emily Garcia ('13), a thespian.
"She expects the most from kids," Ms. Kirby said. "She pushes them to their max."