The New Kids in Office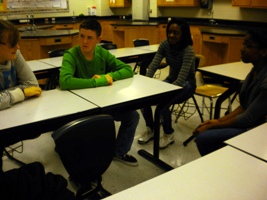 Competition has struck North Point once again. After campaigning took place, the Class of 2016 finally has its Class Officers. Congratulations to Andrew Conklin (president), Jenna Williams (secretary), Dondre'Ana James (historian), Renaya Tuckson (treasure), and Alexis Drake (vice president).
None of the freshmen have had experience yet in the running of being a high school class officer. So what did they have to do to get the votes from their peers? In the past candidates battled it out with bright, eye-catching posters, candy and having friends spread the word. Some even took the initiative to put themselves out there and talk to their class during NEST, stating what they would do with their position to make a difference at school. There were a few students who actually made a big difference for the whole school and not just for their class.
What is to be expected of the students elected into office? "The freshmen class officers will be helping throughout the school year to help with fundraises for their class and to get to know each other," said the Class of 2016 sponsor, Ms. Wieczorek.
Students' perspective does make a difference when they let their ideas be heard. Any freshman who feels that he or she could and wants to make a difference should take the chance to run for office during their four years of high school. Even if losing candidates did not make it this year, there is a chance to run all four years. After freshman year, all elections will be held at the end of the school year.
What is needed to be a good candidate? Miss Wieczorek said, "A good candidate is willing to help and has to have a desire to serve their class." Conklin ('16) plans on "putting my best foot forward to serve the class of 2016." The class officers of 2016 all agreed that they "want to gain knowledge and leadership.