Hard work and talent do eventually pay off. North Point's very own Tasia Butler ('13) and Matt Bonds ('13) have both received full athletic scholarships for basketball. On November 15th, both of these athletes signed with their committed schools. Bonds signed with Saint Michaels College and Butler signed with Syracuse University. They are now set and ready for their athletic futures.
Butler has had a relationship with Syracuse for quite some time. They first recruited her when she was in the seventh grade. This school is more than satisfying to Butler. She states, "I love everything about them." She feels that she will be a great fit and a good asset to the team. "I feel that I can fit their style of play and can be used successfully at different positions. They are moving to the ACC, so my games will be closer to home, allowing my family to come see me more." Butler will be playing side by side with her sister, North Point alumni, Tiara Butler; she will be a junior when Butler is a freshman.
Family was also one of the things Bonds looked for when choosing the right college. "The work ethic and the family atmosphere was a big thing. The direction the team is heading in how I fit in was a big part also. Plus, there was a very up to date academic system," explained Bonds.
The process of choosing the right school became a little difficult for Butler but with the help of her sister she was able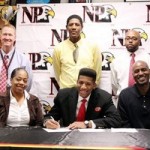 to choose what was right for her. Butler had a lot of schools to choose from. University of Miami, University of Louisville, University of Notre Dame, Georgetown University, St. Johns University, and many more wanted Butler to play for their school.
Bonds received offers from Pace University, Shepherd University, Goldey Beacom College, Mansfield University, and Mercyhurst College. Several division one schools were looking at him like University of Maryland Baltimore County, Long Island University Brooklyn, Sacred Heart University, and Bryant University.
Both Bonds and Butler started playing basketball when they were in the fifth grade. Butler has been on varsity and a starter since her freshman year. Bonds joined the varsity squad when he was a sophomore, which is when the boy's basketball team won their first and only state championship. Both of these athletes plan on playing after college, but it is not guaranteed. Bonds is wiling to play overseas if there is an opportunity.
This winter season will be their last year of high school basketball, but the sport does not end for them there. Right now is the beginning of an end, but next year will be their start of a new beginning.