It's Academic Earns First County Victory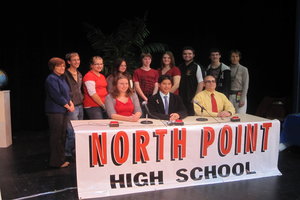 Insulin. Snow White and the Seven Dwarves. Cyanide. The Hunger Games. Equestrian. Give me liberty or give me death.
Those are just a few of the answers to the wide range of questions that volleyed around the Lackey High School auditorium on the night of December 5. All six of Charles County's high schools had gathered to engage in a contest of intellectual fortitude – It's Academic. North Point, previously more used to being the bridesmaid than the bride, took first place ahead of second place La Plata High School and third place Thomas Stone High School.
The teams were composed of three students from each school. Representing North Point were Captain Gaston Lopez ('13), Marie Sterba ('13) and Alex Corbin ('13). The first and second matches of the night were play-off rounds, where the point tally would decide which three schools would compete in the third and final match of the night. Every round was split into three parts: category, team, and toss up. In their play-off match, North Point, McDonough, and Lackey initially kept up with one another. But that did not last long as North Point went on an answering streak, eventually winning the round with 350 points to McDonough's 250 and Lackey's 220.
The second playoff game pitted Westlake, Stone, and La Plata against one another. La Plata, at the time the reigning It's Academic champion, easy batted away any competition, winning with 410 points to Stone's 290 and Westlake's 270. La Plata was especially successful in the category round, which included questions on literature from The Catcher in the Rye to the Hunger Games.
Having the top three scores, La Plata, North Point and Stone entered the final round together, and the scores reset at 100 points. This match was the key unknown of the night – no one knew if North Point could best the dominant La Plata team. That question, like all the others asked during the competition, did not go unanswered for long. North Point dominated in the category round (current events) while La Plata could answer just one question. North Point held steady during the team round while La Plata was given a chance to rally. By the end of the final round, the free-for-all toss up, North Point was eighty points ahead of La Plata.
"I was awfully surprised," said Lopez, who had ecstatically hugged his teammates after the host, Randy Runyon declared the North Point victory. "We were able to beat them because of what we brought to the table."
As part of an ongoing effort to increase the school's emphasis on academics as opposed to athletics, the administration offered to provide free transportation for student to attend the 7pm program. Enough students took up this offer that North Point won the Spirit Competition for having the most supporters present.
"I always felt bad that sports gets support so much," said Janaya Banks ('14), who attended with her friends. "I'm interested in academics so I knew [It's Academic] would want as much support."
The general sentiment after the competition ended was expressed by North Point's principal, Ms. Hill, who said, "I'm very, very proud of their showing. They really represented us well."