STEM Spotlight as Governor Visits North Point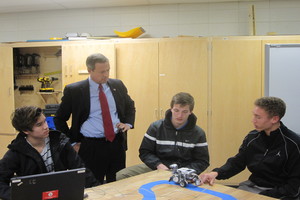 North Point's lobby was abuzz with conversation on the afternoon of Monday, February 11th as a who's who of Charles County government officials flooded the school in anticipation of a rare event: a visit from the Governor of Maryland, Martin O'Malley. The visit supports the recent national and state-wide push to emphasize STEM (science, technology, engineering, and math) education.
O'Malley originally planned to pay the school a visit back in October along with newly minted State Superintendent Lillian Lowery, but had to change his plans at the last minute. There was a definite "better late than never" atmosphere when O'Malley requested another opportunity to visit.
The afternoon's events began at the Academy of Health Professions, where Ms. Hill, North Point principal, welcomed the assembled guests, jokingly adding that the number was so many that she needed to refer to a list to make sure that everyone was mentioned. Those in attendance included members of the Charles County Board of Education, the  Superintendant, County Commissioners, the Mayor of La Plata, and school system staff. Naturally, a gaggle of reporters and photographers was there to document the proceedings.
The Governor began with brief remarks commending North Point for its strong statewide reputation in college and career readiness. He emphasized that many students graduate with technical or professional certifications in their subject area, a qualification that makes them more competitive in the workplace or more prepared for college.
Afterward, O'Malley paid visits to several STI programs where students showed off the skills they had been taught. In Health Professions, Maggie Campbell ('13), Kha-ai Tran ('13), and Kayla Valencis ('13) gave O'Malley a brief overview of CPR. In Biotechnology, the program's seniors ran a lab on DNA gel electrophoresis, the process that technicians can use to determine paternity.
In Electrical Construction, the Governor saw the residential wiring that students work on, as well as the solar panel the program uses for power. Next, engineering students showed off their gadgets, including a robot and a new 3D printer, which melts plastic to create 3D models layer by layer.
"We were excited because he is such an important public figure," commented Austin Fisher ('13), an engineering student.
In Automotive Technology, the Governor and associated guests donned protective eyewear as they watched students work on cars.  Ben Allson ('13) showed O'Malley how the program uses a special type of diagnostic camera that can be inserted into engines and record video. The last stop was in Culinary Arts, where the O'Malley took a look at the full service restaurant kitchen and sampled a freshly made, powdered sugar-topped beignet made by Heather Tippett ('13). O'Malley joked that the treat was not good for his diet.
"It was pretty weird because all of the people with all of the cameras were taking pictures and I was just trying to do my work," commented Tippett.
As the tour wrapped up, the guests gathered in the lobby for photos and Skills USA officers presented O'Malley with a gift bag, including North Point apparel, which O'Malley promised to wear while working out.
Overall, it was obvious that O'Malley left with a favorable impression of North Point and its programs. In his words, "North Point has it all."