Looking for that Light Bulb Moment: Mr. Lesko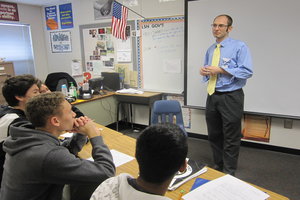 The aha moment. The light bulb moment. These are things that teachers live for and Mr. Lesko, the Local, State, and National Government and AP Economics  teacher, is no exception. Lesko has a very positive reputation around school due to his teaching methods and care for his students. This teacher's popularity comes as no surprise. Laughing, he commented, "I am one of those weirdos that wanted to be a teacher as long as I can remember."
Lesko's journey to becoming an educator did not begin very far away. He describes himself as "Charles county born and raised" having lived in the same house in this community throughout his childhood and adolescence. He graduated from McDonough High School in 1997 and then headed to Frostburg University, where he got a degree in the Social Sciences. Political science and history drew his interest and now those concentrations are a big part of his daily job.
After graduation, Lesko hardly expected to return to Charles County to teach. With a friend, he set off on a month-long road trip across the country and fell in love with the palm trees and sunshine of Southern California. But after a job as a long-term substitute at General Smallwood Middle School in Waldorf led to a full-time position at Lackey High School, Lesko stayed here after all.
In the eleven years since then, Lesko has taught LSN to hundreds of freshmen at Lackey and North Point. He described the subject as very difficult to teach to ninth graders, but the task has become easier over the years. "I know which anecdotes to use, which stories to tell, which buttons to push," he commented. Overall, his favorite subject to teach is not LSN, but AP Microeconomics, a course typically taken by seniors. AP Macroeconomics is the other subject Lesko is responsible for.
When he's not standing in front of a group of students in his classroom, Mr. Lesko enjoys "outdoorsy, adventurous things." He is the coach of the Varsity Soccer team and likes to go biking and golfing. If it's a weekend, it would not be surprising to find Lesko at a concert for his favorite bands, The Gaslight Anthem and Phish.
His students say that he brings that sense of adventure to the subjects he teaches. "Mr. Lesko leverages his economics experience and incorporates real life applications into his lessons, making learning more intriguing and fruitful," said Joshua Land ('13), an AP Macro student.
According to Henry Buntz ('13), an AP Micro student, "His lessons and discussions are engaging because they are about current events or past personal experiences. This helps me to relate to class and it has become possibly my favorite class of all of high school."
"I think he's the best teacher at North Point," said fellow LSN teacher Mr. Kirby. "He's a great colleague."
Lesko is also ambitious, noting that he hates the idea of standing still. In ten years, he plans to remain in education, but not necessarily in the classroom. "I think it would be really cool to run my own school," he said.
If so, that school would probably be a great place to be a student. "Quite simply, I think learning should be fun. It shouldn't be an end result. It's an ongoing process," said Lesko. "If you don't learn something new today, you're no better than you were yesterday."