The AP Literature Dynamic Duo: Ms. Kirby and Ms. Smith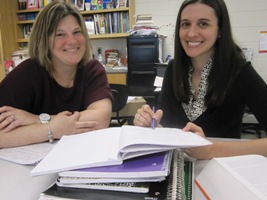 Advanced Placement Literature and Composition is not just any typical class – it is the culmination of high school English for many North Point seniors. The course's popularity means that it cannot be taught with a one person effort. Instead, two teachers, Mrs. Kirby and Mrs. C. Smith, take up the task of preparing their seniors for their final high school English examination. Kirby and Smith may have different personalities and teaching styles, but they work together closely in order to keep all of their AP Lit students on track.
"It's cliché, but two heads are better than one," said Kirby in regard to working with Smith to plan the course. Previously, the two had to coordinate on their own time, often outside of school. Now, they share a planning period every other day when can make sure that their instruction is in-sync and plan their lessons. This is both teacher's fifth year teaching the course.
Kirby noted that students are often eager to compare the two, complaining, for example, when one teacher is giving a test and another is not, or claiming that one class is easier than another. "We don't get to see each other teach," said Kirby. "So, it's hard to compare teaching styles. Like any two teachers, we have different personalities." However, as Smith added, "We have the same expectations."
Both Smith and Kirby decided to become AP Literature teachers for similar reasons. "We get to a college level of debate and discussion, which you really can't get to until senior year," said Kirby. Smith echoed that sentiment, stating "I wanted a chance to get to explore literature with students who wanted to do a deeper analysis of it."
The course covers a wide variety of works, from The Awakening, a 19th century feminist novel, to Othello, a Shakespearean tragedy, and The Kite Runner, a 2003 novel set in war-torn Afghanistan. Students are also expected to read outside of class via quarterly Independent Reading projects. Kirby's favorite book to instruct with is The Kite Runner. "No students regretted reading it," she said. Smith's preference changes with her students'. Some years, Othello is more popular, but in others, Things Fall Apart, a novel about the effects of colonialism in Africa, wins over more students.
AP Literature is not always a cake walk for the teachers despite the fact that they have taught it for nearly as long as there have been seniors at North Point. "Getting students to read the literature so they're prepared for class" is the hardest part of Smith's job. That, and getting students to understand how to analyze fiction and poetry. "There's no right or wrong answer – there are many avenues to explore," she finished.
Despite the constant struggle against SparkNotes, Smith plans to continue teaching AP Literature in the years to come, until she makes sure that all of her students can write quality essays and receive a passing score on the AP exam. Undoubtedly, Kirby has the same goal. How they will get there is to be determined. In Kirby's words, "It's important that we can get to the same place in different ways."