Moving on up: Hill Rises to Superintendent Post, Simms to Principal's Office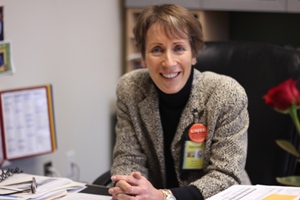 On the morning of Wednesday, April 10th, the North Point gymnasium was awash in anticipation as every student and staff member gathered for a rare whole-school assembly. As the bleachers filled up and the Drumline's beats bounced off of the walls, conversations converged on one topic: the reason for the gathering. By then, only students living under a rock could claim to be ignorant of the big news: the ascension of Principal Kimberly Hill to the position of Superintendent of Charles County Public Schools.
When the program began, Hill walked regally underneath the giant inflatable Eagle, waving to the students she was soon to leave. She began to speak into the mike and the crowd fell silent – not at easy feat when the crowd is composed of 2,000 restless teenagers. But that speaks to the reverence with which most members of the community regard Hill. In a reassuring tone, she commended students on the pride she felt that they bring to North Point – and reminded them that, though she would depart, the students would be expected to maintain the same standards. Then, in what could be considered a passing of the torch, Simms took the microphone as Hill receded out of sight. He went on to assure students and staff that North Point would continue business as usual under his tenure. Afterward, students returned to class and it was just that – business as usual.
The Superintendent search process began months ago and originally boasted 24 candidates. After various rounds cuts, the field was narrowed to three: Hill, Jeanice Kerr Swift, an Assissant Superintendent of Schools in Colorado, and Carey Wright, a Chief Academic Officer in D.C. public schools. Hill's appointment to a four-year term was announced at the April 9th Board of Education meeting to a standing ovation from staff and students present. In the words of Board Chairman Roberta Wise, "The best option was here all along."
As part of the process, Hill was asked to develop a 90 day plan that she would institute if given the position. Her major question at this point is, "How can we make every school a higher achieving school?" Hill plans to attain unsurpassed student achievement by meeting with all Principals in their buildings and asking, "What do you need to make your school the highest performing school in the district?"
Generally, it is rare for someone to make a direct jump from principal to superintendent. "A lot of people told me that," noted Hill, with a smile. She openly stated that there will be a learning curve, adding "I need to learn about central office operations."
As for Simms, the learning curve was navigated long ago. As Hill became busier with the Superintendent application and other priorities, Simms began to manage much of North Point's day to day operations. "We are not going to change anything," he said. He and Hill "share the same goals and the same objectives." "He's been doing a lot of the little things," said Mr. Mast, another member of the administration. "He's going to adapt really easily." Simms has worked for Charles County Public Schools for 33 years, so he is anything but an outsider. As for next year, the naming of a permanent principal is up to the new superintendent.
Though Hill has already moved to her new office in La Plata, she will be present at the Class of 2013 graduation this June. And in general, Hill said, "I'll never really leave." Her mark unerasable.