North Point Girls Dethrone Severna Park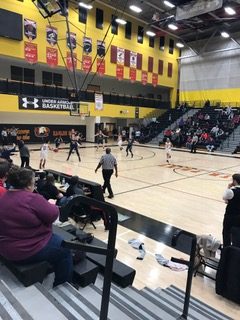 In front of a loud and divided crowd, North Point Girls Basketball hosted Severna Park in the third round of the 4A playoffs. The Eagles defeated the Chopticon Braves to reach this point, while the Falcons of Severna Park upset Old Mill in a stunner to reach the third round themselves. The Eagles needed to establish dominance from the beginning, and that is exactly what they did.
North Point came out on fire, jumping out to a 20-2 lead with about 4 minutes left in the first quarter. The crowd roared as Senior captain Necole (Co Co) Hope got off to a great start. Hope hit 3 three pointers quickly and was locked in for the rest of the night finishing with a game high 33 points. When asked what her mindset was coming into this game, Hope said, "Definitely focus on defense." North Point held a 30-10 lead after the first quarter. The 20 point lead seemed assuring for the Eagles, but Severna Park responded in a huge way. The Falcons outscored the Eagles 25-14 in the 2nd quarter and started to play their style of basketball. North Point took a 44-35 lead into halftime and this game seemed far from over. Head Coach Mike Serpone was asked what his team needed to do to win, saying "We have to dictate the tempo. If we dictate tempo, we will win this game." The Eagles needed a strong start to the second half to match the strong second quarter of the Falcons. They got exactly what they were looking for.
North Point established dominance right from the start as Hope and Senior Guard Aliyah Bullock led the way for the Eagles. Bullock was coming off of a 40 point game against Chopticon. She talked about how she planned to back up such a strong performance. "I don't shoot a lot normally," Bullock said, "but when I get chances, I have to convert them." North Point took a 57-42 lead entering the final quarter after only scoring 7 points in the third quarter. Junior Camille Robinson spoke about what her team had to do successfully. "We have to play good defense and the offense will come," Robinson explained. North Point outscored Severna Park 27-15 in the second half and cruised to a 72-50 victory. The win puts the Eagles record at an overall 23-3 and a perfect 16-0 in the region. The Eagles will advance to play Catonsville of Baltimore Maryland this Thursday March 9th at 3 PM at Towson University. Come out and support the Lady Eagles as they look to move past the semifinals of this year's playoffs.