Viola Davis makes history at the Emmys 2015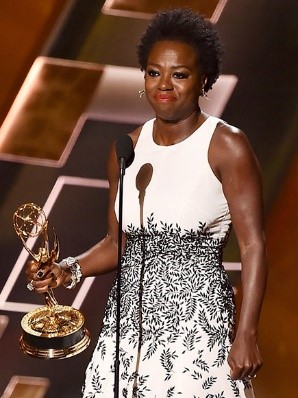 The biggest thing that seemed to have come from the Emmy's last Sunday was progress. With two African American woman winning huge awards one for the first time in history, one for the second, the only disappointment seemed to be why hasn't this happened sooner?
Viola Davis, of How to Get Away with Murder took home an Emmy for the best actress in a drama for her performance as Annalise Keaton. Davis is the first African American woman to win this award in Emmy history, an award show that had first aired in the 50's. Davis has previously been nominated for two Oscars, one for her work in The Help. In her acceptance speech she began with a quote from Harriet Tubman: "In my mind, I see a line. And over that line, I see green fields and lovely flowers and beautiful white women with their arms stretched out to me, over the line. But I can't seem to get there no how. I can't seem to get there no how. I can't seem to get over that line." She went on to speak of the unavailability of roles in Hollywood, saying, "The only thing that separates women of color from anyone else is simply opportunity. You cannot win an Emmy for roles that are simply not there."
Her words speak volumes of truth. In award shows besides the Emmys, there has been few nominations. Throughout the entire history of the Oscars, there have only been ten African American women nominated for an award, including Davis herself. In history of the Emmys. This year only six African Americans were nominated for an award. Out of that, five were leading actors, and two won. The same award show was surrounded by a huge controversy earlier this year involving nominations. The controversy stemmed from the lack of nominations for movies that featured diverse characters. Selma was the only one nominated and its leader David Oyelowo wasn't nominated at all.
Although there is still a problem with lack of diversity in Hollywood there have been some serious innovations lately. Top television shows such as Empire, Scandal, and of course How to Get Away with Murder all star an African American woman, and in the case of Empire an African American cast. Uzo Aduba who plays "Crazy Eyes" In Orange is the New Black also made history in the Emmys this year. She was the second African American woman in history to win both the best supporting actress in a drama and comedy for the same character.
Hollywood shouldn't ignore the lack of diversity. Audiences have cried out for years for movies and television to star more African Americans. With these awards being won, it could mean that someone is finally listening.