The Quest for NEST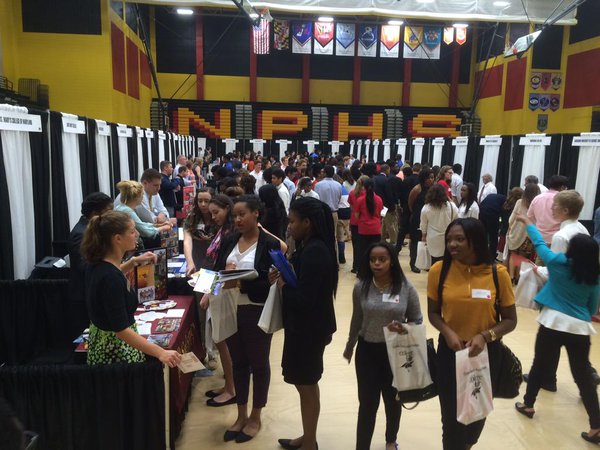 What do you during NEST? Freshman finally have the chance to fully experience NEST and they might wonder how to use the entire hour to their advantage. Many students spend their time eating at the cafeteria, retaking assignments or simply hanging out among their friends. While there is nothing wrong with this, there is something very interesting that a freshman as well as anyone else can begin to look into: clubs. There are over 40 diverse clubs to pick from and each one comes with their own interesting and diverse adventure. These clubs gain publicity from the school's annual NEST Fair, where all of these organizations come together so that the freshman, and of course the other students, are able to talk with members of the clubs about what they do, the overall experience and hopefully how to join.
There's quite a variety of organizations here and they range from political, such as the Student Government Association and Mock Trial, to clubs that are technological like the Robotics Club or Media Club. When asked about potential clubs to look into, freshman Ethan Wansel replied, "The NOAA [National Oceanic and Atmospheric Administration] Club and the Envirothon group seemed very interesting to me. I really enjoy learning about nature and the environment, so they looked like they would be a lot of fun. Also, I'm looking forward to Video Game Club." In fact, many students appeared to be interested in the Video Game Club, as it appeared to be one of the most populated booths at the fair. A member of the group, senior Robert Valdez  stated, "If you want to make new friends and bond with them over a large selection of games, old and new, you should join. We're all about enjoying our time together and we'd be happy to have you." Many other clubs also embrace the social bonding that occurs between its members. When asked about her club's environment, senior Christena Jerow, president of the Thespian Club commented, "Unlike other groups, everyone involved does hang out together. Whether joking around or helping each other out, we're a big family. Slightly dysfunctional, but family nonetheless. Normally, those who participate in theatre tend to say that their experience stays with them forever." Jerow's organization is most known for producing the school's plays and musicals, as well as the Coffeehouse event, which is one the most popular gatherings besides the sport competitions.
Clubs have different agendas; they may serve to educate, entertain, as well as help others. Freshman Hunter Connolly said, "I'm excited to join the Best Buddies club and Student to Student. Both are focused on assisting those who need help and creating a positive environment, which is something that I'm passionate about and looking forward to being a part of." Best Buddies is an organization dedicated to creating a volunteer movement that establishes opportunities for friendships and leadership development for people with intellectual and developmental disabilities, which also allows anyone to participate. Another reason to join a club is to express your creativity, like the Photography Club does. A member of the group, junior Nia Goss added, "The process of photography is very scenic and serene. You get to learn about taking professional photos and have fun doing so. We have amazing experiences and there's a gallery at the end of the year that shows all of our projects. Not to mention that we take field trips and that there's no need to purchase your own camera. We always look forward to meeting those who are passionate about photo-taking and can't wait to see what they're capable of doing." These comments interested a freshman, Nyjah Dorsey, who said, "The Photography Club seems very interesting to me especially since I like working with cameras."
There is a large variety of organizations to participate in during NEST. Each one provides their own stories to tell. If you want to find out more information about the clubs, look on the walls near the main staircase to find out when clubs are meeting. You can also go to school's website, http://www.ccboe.com/schools/northpoint/ and underneath the STUDENT tab, then NEST, you can find out the same information as well as club descriptions. You have 55 minutes of free time, 5 days a week; what will you spend your time doing?