We've Got The Skills For SkillsUSA
North Point came home with a lot of medals as they dominated several competitions at the most recent SkillsUSA competition. The events put CTE programs of other schools against one another to determine who, obviously, has the most skill. The contest that was held on February 3rd, was a regional competition, meaning that schools in Charles County compete against each other. The top three regional competitors advance to the state competition, which occurs later this spring. The CTE events range from Automotive Technology to Culinary Arts, each with their own specifics contests, rules and guidelines.
When competing in a SkillsUSA competition, something that every competitor must do is complete a tiebreaker test.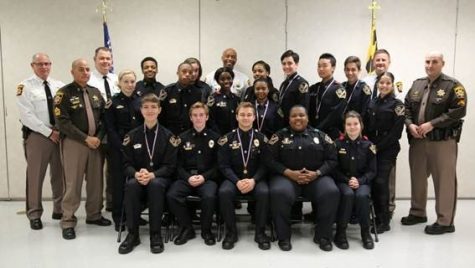 As the title suggests, this test is just in case multiple competitors obtain the same score. Senior Maia Parker described the test as somewhat stressful. She said, "I'm in the Education Career CTE and our competition focused on early childhood. I was nervous about going to the event because we get very little background information on what the competition will be. We have to use what we learned in class and hope that we can apply it to the competition. I did my best and actually managed to get first place! Regardless, I would say that the process was very rewarding and I would've been happy for the experience even if I didn't place." Fellow students in Education Careers also placed; senior Morgan Huntt in second and senior Nailah Parrish in third.
When competing in SkillsUSA, the activity can vary from tearing things apart to putting things together. First place winner of the Culinary Arts competition, senior Jakarri Johnson commented, "We had to prepare a chicken stock, sear and bake a chicken, make a rice pilaf and many other dishes. A very important part of the competition was identifying many different cuts, which we did with carrots." Second place winner of the Carpentry event, senior Alex Tipton described, "For my event, we had about four hours to construct the frame of a shed, and then we were judged based in our time management and craftsmanship. The process was very long, yet beneficial and educational. The competition helped enhance my skills for the real world, which I am grateful for." Johnson also added, "Oh my goodness! This was very nerve racking. I competed last year and lost, so I prepared a lot this time around." Talking about her experience, senior Kelsey Swegle said, "I took place in the event for the Academy of Health Professions CTE and got second place. We had to perform four random skills, which were unknown to us and each step followed got you a point. I found it to be very rewarding as it prepared me for my upcoming certification as a Certified Nursing Assistant."
The SkillsUSA competition proved to be a bit difficult for students, but nothing our students couldn't handle. All the people interviewed are advancing to the State competition, and there's no doubt they're capable of making it to Nationals.