Maze Runner: Scorch Trials Review
More stories from Ana Benitez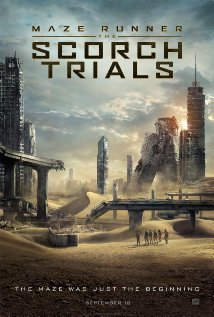 Wes Ball the director of The Scorch Trials did an amazing job on this action-sci-fi-thriller. While still keeping favorite characters from the first movie, he introduces new ones as well as some more background on the already established characters. A drastic change/development of scenery and overall plot is also made.
Dylan O'Brian starring as Thomas, the main character, in the Maze Runner series will have to lead the group on a whole new list of challenges on a scale of which they have never experienced before. In this second installment to the serious, the movie picks up where the last one left off show
ing Thomas and the Gladers crew from the first movie on their rescue flight. All is thought to be well since Thomas and the Gladers have made it out of the maze and out of the evil hands of WCKD, but all is not as it seems to be as the crew will soon find out. Together Thomas and his friends will face new trials such as The Scorch, and the Flare virus.
The film had great action sequences balanced between moments of suspense, and plot development. Some of the plot development was over foreshadowed making some of the big "A-HA!" moments predictable. It did a great job of capturing the desolate world that is the Scorch, all while still developing an interesting storyline. The hectic, "always in danger" feel whether from deadly people, to deadly weather, and even a deadly virus, was definitely prominent in this film, making it a great thriller.
Kaya Scodelario stars as Teresa, the only female Glader of the group. Teresa was introduced as Thomas's love interest in the first movie, but will she have competition when new girl, Brenda, played by Rosa Salazar, joins the group?
New characters, and a possible love triangle completes this plot, making the movie very well rounded, and appealing to all audiences. The film has a great plot as most films based off books do. It was exciting, interesting, suspenseful, and although dark and a bit predictable at times, overall a great film.