The Annual Spring Bloom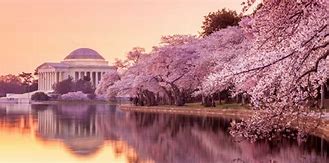 Every year, as spring rolls around, the capital gets visitors from around the world to see the Cherry Blossoms. The Cherry Blossoms were a gift given to the people of the United States by the people of Japan as a symbol of the newfound friendship in 1912. Every year they bloom, we are reminded of the peace between the two countries. 
This year the Cherry Blossom festival will take place between March 26 to April 16. During this time, people from around the world will flood the streets of DC and walk the Tidal Basin, admiring the beautiful trees. Some people will bring kites to fly on the mall, while others will bring picnic baskets and blankets to lay out on the grass and watch the unique trees sway in the wind. All around are people taking pictures, memorializing the possible once in a lifetime experience. 
On Sunday, March 26, thousands of people crowded the street, as it was the first proper Cherry Blossom after Covid. In 2020, the Cherry Blossoms bloomed right as Covid hit, so that year of sightseeing was lost as people had to stay at home. Last year, although open, people were cautious about going outside to see the trees. This year's crowd blocked streets, filling up every corner of the city. 
The Cherry Blossoms gift is one of beauty and prosperity, enjoyed by anyone from around the world.