Climate Change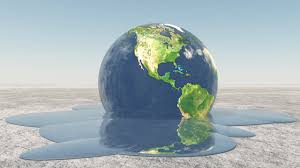 It has been an unusually warm winter this year. Some can argue that it's due to climate change. What is climate change? According to takepart.com, "Climate change is the rise in average surface temperatures on Earth, mostly due to the burning of fossil fuels." Evidence that the climate of the earth is rising comes from the National Oceanic and Atmospheric Administration (NOAA), in which information was gathered that the globally- averaged temperature for January 2016 was 1.87 F above the 20th century's  average of 53.6 F. This may not seem like a big deal, but this January was the 9th consecutive month the record was broken.
The effects of climate change can be drastic if they continue at this rate. According to the European Commission, effects can include melting ice and rising seas, extreme weather, heat waves and forest fires in some countries, and the increase in heat related deaths.
Environmental advocates have been voicing their concerns about climate change and the most notable have been a group of youth advocates in Eugene, Oregon a couple of weeks ago. The group is a part of Our Children's Trust and consisted of 21 teens and children. They appeared in federal court to sue the U.S government and President Barack Obama for not acting quick enough to stop climate change. A member of the group, Xiuhtezcatl Tonatiuh said, "My generation is going to be inheriting the crisis we see all around us today. We are standing up not only for the environment and the Earth and the atmosphere but for the rights we have to live in a healthy, just and sustainable world."
Adults and youth recognize that climate change is rising problem, and it's left to wonder, what should be done?  Student Mary Royster (17') said, "Climate change is happening. We can take steps such as reducing the amount of gas we use and waste we produce in order to stop it." As more people recognize the detrimental effects of climate change, hopefully something can be done to prevent it in order to create a more sustainable world.