Darting Through the Obstacles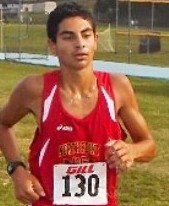 If adverse weather conditions, coupled with three other tough teams racing on a difficult course doesn't sound challenging, then what does? Last Tuesday, the boys Cross-Country team took to Great Mills' home turf to not only face them, but additionally Lackey and Huntingtown. Given the past few days of torrential rains, the course was slick, however, the boys were lucky the weather did improve during their race.
   By the shot of the gun, the four teams were all off and very hungry to win the meet. One by one, each team formed packs that played out particular strategies in hopes to pass their opponents. "Great Mills and Huntingtown both have good teams this year, so we knew it was going to be tough. The start of the race went out fast. Huntingtown had a group of guys we needed to pass so we made our move and passed them about a mile into the race," said Nicholas Summers (16'). By the end of the race, the boys had beaten both Huntingtown and Lackey; however, they fell short from catching Great Mills (24-31—lowest score wins). "It was a tough race but we all felt good and in shape. Although, the three miles was longer than I expected, we got our business done. Great Mills is definitely catchable," said Jonathan Martinez (16'). Although the boys fell short from taking first place, they were literally on the heels of Great Mills—the winning team. Successfully establishing their place in the Southern Maryland Athletic Conference, the boys look forward to bettering their record (3-3) this coming week against Thomas Stone.