Ups and Downs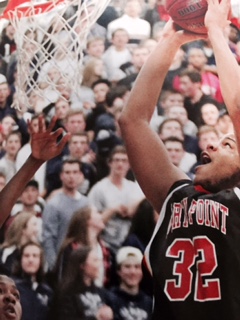 For the boys' basketball team, their game against Gwynn Park yielded an unfortunate, yet motivating result. Managing to play well for the majority of the game, the Eagles knew they were stacked up against a tough team, whom they'd never played before. Not included in the Southern Maryland Athletic Conference, the Gwynn Park Yellow Jackets (Prince George's County) are thus not a regular opponent of the Eagles. That being said, the boys' basketball team had their fair share of good plays, however, it was ultimately not enough when the tied match went into overtime. Losing by one point, the overall score totaled to 67-66 points when the clock read 0:00.
Jalen Gibbs (17') stood out by showcasing his skills, scoring 20 points at the stripe to gain possession numerous times. As the game approached halftime, Malik Brown (16') helped to cut the lead by 10 just before the buzzer went off. Brown ultimately scored 18 points, and with his fellow teammates, the Eagles were successfully able to outscore Gwynn Park in the second, third and fourth quarters. By the third quarter, the boys executed a 6-0 run, which helped cut the lead. As the game proceeded and the clock continued to tick down, Gibbs hit a reverse layup with only 23 seconds left, which solidified a tie between both teams. When the game came down to the very end, crafty maneuvers and an ultimate successful shot by the Yellow Jackets concluded the game. "Our coach got on us a little bit in the locker room. We just had to come out with fire. I feel like we had a good shot at the end, but the ball just didn't go our way," expressed Gibbs.
Despite this game being the first loss of the season after winning their first two games against Huntingtown and Chopticon, the team ultimately plans to work extremely hard, regardless of wins or losses. The Eagles are set to face Douglass High School on Monday the 14th, in which they plan to redeem themselves.