Taking Scandal to a whole new level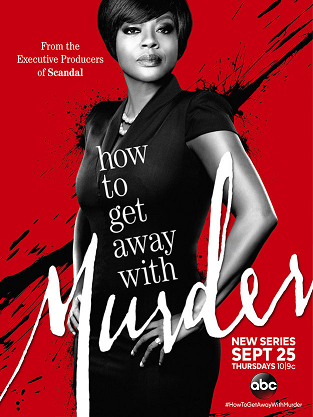 Things are heating up in the new ABC series How to Get Away with Murder. Thursday night's episode featured many groundbreaking revelations and scandalous new details uncovered about the murder of a local college student named Lila Stangard.
            For those who have not seen any episodes of this fall's revolutionary drama, here is what has happened. This season highlights a college law professor named Annalise Keating who selects five of her top law students to accompany her in her private firm while defending her everyday clients. Now before thinking about flipping the channel after Scandal, there are several twists that can be pretty confusing if you do not pay attention.
The very first episode kicks off with a flash forward to the students in deep waters trying to cover up a murder. Much of the series is a constant switch from present to past as they reveal little details about how and why this Lila Stangard was killed. According to Thursday night's episode, the cast discovers many new things about the case including Professor Keating's revelation about her husband's involvement with Stangard. There is also a growing relationship heating up between Laurel (one of the five law students) and Frank Delfino (a part of Professor Keating's team).
Many people will recognize members of this dynamic cast which includes Alfred Enoch starring as Wes Gibbins, who also played Dean Thomas in the Harry Potter movies. Matt McGorry from Orange is the New Black stars as Asher millstone, and Viola Davis stars as Professor Keating. This series also features other rising stars such as Kate Findlay who plays Wes's next door neighbor and murder suspect Rebecca, as well as Jack Falahee who plays Connor Walsh, a smooth talking law student that will do anything to win.
            As the promotions promised, Viola Davis's last nine words shocked many viewers and left a lot of buzz in the air about what exciting drama lies ahead in next week's episode. How to Get Away with Murder is sure to make jaws drop over and over again. Fans of Scandal Thursdays are sure to enjoy this exciting new series. How to Get Away with Murder airs right after Scandal on Thursdays at 10, so be sure to catch this night full of shocking and exciting drama.