'Star Wars: The Last Jedi' Strikes Back the Franchise
A movie franchise that's now 40 years old has returned to theaters. "Star Wars" has become a staple of modern pop culture and will continue to do so as their new installment: "The Last Jedi" has been released. The movie continues from the 2014 film, "The Force Awakens" and previous installments over the course of the past 4 decades. The story goes as follows: Luke Skywalker's peaceful and solitary existence gets upended when he encounters Rey, a young woman who shows strong signs of the Force. Her desire to learn the ways of the Jedi forces Luke to make a decision that changes their lives forever. Meanwhile, Kylo Ren and General Hux lead the First Order in an all-out assault against Leia and the Resistance for supremacy of the galaxy.
The film stars Mark Hamill as Luke Skywalker, Carrie Fisher as General Leia Organa, Adam Driver as Kylo Ren, Daisy Ridley as Rey, John Boyega as Finn and Oscar Isaac as Poe Dameron. The movie was written and directed by Rian Johnson as well as produced by J.J. Abrams, who directed the preceding movie in 2014. The film runs 152 minutes and is rated PG-13 for sequences of sci-fi action and violence. With an estimated budget of 200 million USD, "The Last Jedi" has rocketed to a debut of $220 million at the North American box office, according to studio estimates Sunday. That gives "The Last Jedi" the second-best opening ever, slotting in behind only its predecessor, "The Force Awakens." The blockbuster became just the fourth film to open above $200 million domestically, alongside "The Force Awakens," "The Avengers," and "Jurassic World." The film is off to a similar start overseas, too, with $230 million in international ticket sales, said Disney. That brings its three-day global opening weekend haul to $450 million.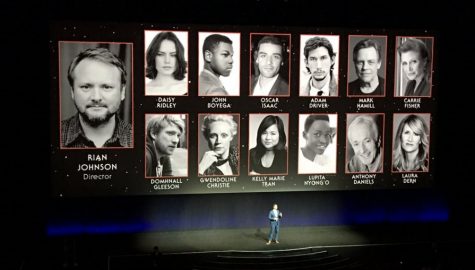 The movie currently has a rating of 7.9/10 on IMDB and 93% on Rotten Tomatoes. However, this won't necessarily guarantee your enjoyment as the film has an audience score of 55%. Senior Marco Viray commented, "I was disappointed by this movie. It left a lot of questions unanswered and, in my opinion, has a completely unnecessary B-plot. I left the theatre feeling unsatisfied." On the opposite side of the spectrum another senior, Tymon Wansel claimed, "I enjoyed the movie. There were a lot of cool scenes all throughout that kept me interested the entire time. Though some parts weren't ideal, my overall experience was incredible, and it was much better than the prequels." I personally, loved the film and I'm now even more excited for the next installment: Episode IX.